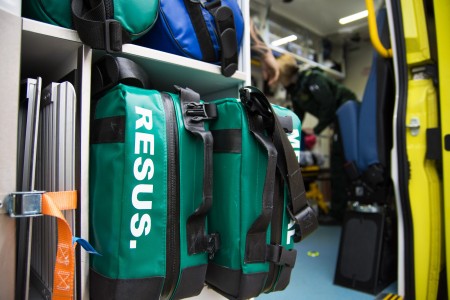 As a trainee technician you are a member of the emergency ambulance crew, responding to a wide range of emergency and urgent care calls. Once qualified, you will work alongside a support worker (emergency care assistant (ECA) or ambulance support crew (ASC)) or a paramedic/registered clinician. You will be required to make clinical decisions and will be the lead clinician if crewed up with an emergency care assistant or ambulance support crew, which will enable you to provide patients with potentially life-saving care at the scene as well as linking patients with alternative care pathways within the community.
Working shifts across the 24 hours period; you will deal with a diverse range of people and situations. The trainee technician role is also an option to consider if you wish to progress to paramedic level in the future and EMAS have an established technician to paramedic apprenticeship route, once you have consolidated your experience as a technician.
How to become a… Trainee Technician
You will need to have qualifications in literacy, numeracy and science or equivalents. Please refer to the job description and person specification on student technician/newly qualified technician adverts for the specific qualifications needed for application. Example qualifications include, but are not limited to functional skills, GCSEs, A Levels, BTEC/NVQ qualifications.
A full and clean driving license including Category B. Applicants with a minor speeding offence may be considered (no more than 3 points).
You should also hold a C1 or C1 provisional on your license. If you are successful during the selection process and have a C1 Provisional, obtaining a full C1 is an essential requirement and will need to be obtained prior to your first day in employment with EMAS. It will be a conditional part of your offer.
You should also have experience of working or volunteering in a people facing role, relevant to ambulance services.
The trainee technician and newly qualified technician (NQT) role requires you to have personal values that align to the EMAS core values of respect, integrity, contribution, teamwork and competence.
You must be person centric/focused and be committed to providing outstanding care for patients who access the service, drawing from your education and experience to deliver care.
The technician role requires motivation, commitment and personal resilience as well as an ability to reflect and seek feedback on clinical practice.
Technicians need to have excellent communication skills, be friendly and work well within a team. It is important that technicians are reliable and punctual in their work due to the nature of an emergency service and the need to respond promptly to incidents/calls. A commitment to continual professional development is also essential due to the evolving nature of emergency and urgent care.
You must also embrace and promote equality, diversity and inclusivity in your role and at every opportunity.
There are now a number of options to engage with student/qualified technician Development:
EMAS offer an internal route enabling trainees to student to study the First Response Emergency & Urgent Care Qualifications(FREUC) through levels 3-5. Completion of the internal programme of education and development leads to newly qualified technician status
EMAS have also linked as a placement provider with three East Midlands universities who offer direct entry (non-employed) student technician courses at a certificate or diploma of Higher Education level (Level 4 or 5). These are De Montfort University Leicester and Nottingham Trent University. Further information about these courses can be obtained from the named university. This is non-employed route and you will be able to apply to EMAS upon successful completion.
EMAS are recruiting technicians who have developed with other organisations/ambulance services. We are always keen to hear from qualified technicians who have IHCD Technician, FQ Associate Ambulance Practitioner, QA FREUC 5 Technician, SJA/BRC Ambulance Technician, University Level 4/5 (Cert/Dip HE) Technician or Military Personnel with CMT 1 + Civilian Ambulance Experience. We will work with individuals to assess the suitability of technician qualifications for employment at EMAS.
All our current vacancies are available via the EMAS website on our Vacancies page. If you wish to apply for a student technician course at University, please contact the University directly (or through UCAS).