Air Ambulance
There are four air ambulance services which respond within the East Midlands:
There are several reasons why EMAS may send an air ambulance to a patient:
If land-based crews at the scene of an incident need the support and additional skills of a doctor or another senior clinician as quickly as possible.
If all land-based ambulances in the immediate area are occupied.
If land-based crews at the scene of an incident feel that the patient is suitably stable and would benefit from being taken to hospital as quickly as possible.
If it's clear that a land-based ambulance will take time to arrive at the scene. This may be for a number of reasons, including accessing rural locations or inaccessible terrain.
If the patient needs to be taken to a hospital elsewhere in the UK for specialised treatment.
It costs approximately £3.3million per year to keep just one aircraft operational and each one is funded entirely by charitable donations.
Private Ambulance Providers (PAS)
PAS crews work on behalf of EMAS to provide a response to all types of emergency and urgent activity.
These crews are trained to the same levels as EMAS employees of the equivalent grade and operate from vehicles that carry the same levels and type of equipment as an EMAS ambulance.
The vehicles and staff uniforms are marked with the relevant company's logo to enable identification. All staff will also carry photographic identification identifying them as working for a private ambulance provider.
Voluntary life savers
A number of organisations work closely with EMAS to provide emergency life-saving care to patients across the East Midlands, for example, the East Midlands Immediate Care Scheme (EMICS), the Lincolnshire Integrated Voluntary Emergency Service (LIVES) and Lincolnshire Emergency Medical Response.
These organisations are charities founded and run by volunteer doctors, paramedics and clinicians who give up their spare time to attend 999 calls directed through our Emergency Operations Centre (EOC).
They aim to provide accredited doctors with skills in pre-hospital immediate care and work closely with us to provide a fast response to medical emergencies.
The schemes operate 24 hours a day, seven days a week and all members undergo emergency driver training from EMAS driving instructors.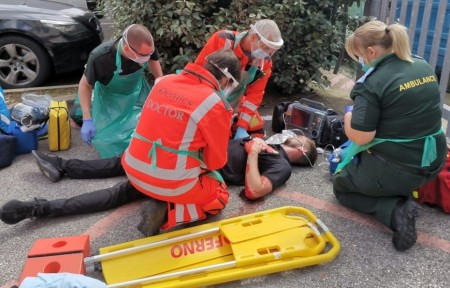 EMICS doctors volunteer their time, working over and above their normal general practice or hospital work, to attend emergency incidents at the request of EMAS. They help to provide pre-hospital treatment and care.
Their fast response cars are fully equipped with resuscitation equipment as well as with radios, blue lights and sirens.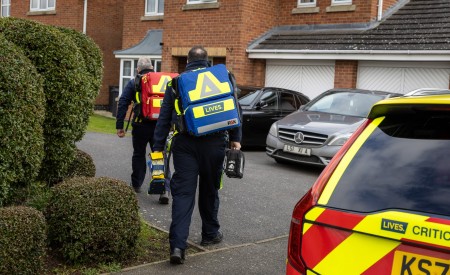 LIVES provide a first response to road traffic accidents, cardiac arrests and workplace emergencies.
The local LIVES organisation is made up of enabling services staff in various key support roles, community first responders, and qualified registered clinicians at various levels of clinical practice such as critical care voluntary doctors, paramedics and other registered health care professionals (HCP) who give up their spare time to respond to 999 calls in Lincolnshire as directed via the EMAS control room.
Members of the Derbyshire Cave Rescue Organisation descend into the darkest subterranean recesses of the Peak District (and other areas of the UK if required) to help injured or trapped potholers, cavers and walkers.
The team help EMAS crews when responding to emergency or urgent situations in some of the Peak District's larger show caves, such as the famous Blue John Mine at Castleton.

Fitted out in made-to-measure caving suits and armed with specialist equipment, the team have seen their fair share of action since the unit was set up in September 2000.