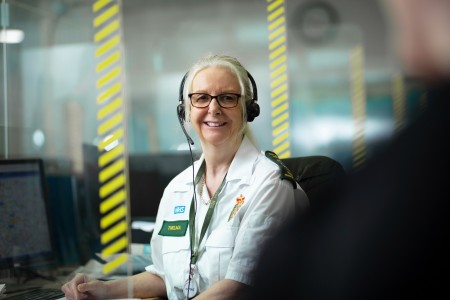 With effect from Saturday 1 July 2023, EMAS will be responsible to offer the Non-Emergency Patient Transport Services (NEPTS) and the operation of its control room across Lincolnshire following a successful bid of a 10-year contract awarded by the NHS Lincolnshire Clinical Commissioning Group.
Currently EMAS also offers emergency ambulance care in the county and have a good understanding of the patients and road networks. EMAS is also serving patients in Derbyshire and Northamptonshire with NEPTS since 2016 and 2019 respectively.
EMAS is committed in providing safe and reliable transport support for eligible patients so that they can get to healthcare appointments and clinics, and for those who require support with journeys from hospital.
Find out more about the booking information and eligibility criteria from the latest NEPTS patient information leaflet
Eligibility
Most people should travel to and from hospital independently by private or public transport, with the help of relatives or friends if necessary. NHS-funded patient transportation is reserved for when it is considered essential to ensuring an individual's safety, safe mobilisation, condition management or recovery.
Only patients who meet one of the below reasons for an appointment will be considered for eligibility for NEPTS:
The patient has been referred by a doctor, dentist or ophthalmic practitioner for non-primary care NHS-funded healthcare services – that is, diagnostics or treatment.
The patient is being discharged from NHS-funded treatment.
The patient is likely to qualify for non-emergency patient transport if they meet one or more of the following criteria:
They have a medical need for transport, typically because they may require oxygen and are unable to self-administer this during transit, need specialised equipment during the journey, need to be closely monitored during the journey, or need to be transferred to another hospital.
They have a cognitive or sensory impairment requiring the oversight of a member of specialist or non-specialist patient transport staff or a suitably trained driver.
They have a significant mobility need that means they are unable to make their own way with relatives/friends and/or escorts/carers whether by private transport (including a specially adapted vehicle if appropriate for the journey), public transport or a taxi.
They are travelling to or returning from in-centre haemodialysis, in which case specialist transport, non-specialist transport or upfront/reimbursement costs for private travel will be made available.
A safeguarding concern has been raised by any relevant professional involved in a patient's life, in relation to the patient travelling independently.
They have wider mobility or medical needs that have resulted in treatment or discharge being missed or severely delayed.
Understand the full detail of the NEPTS eligibility criteria.
If you are not eligible for NHS funded transport, you may qualify for help with travel costs under the healthcare travel cost scheme (HTCS).