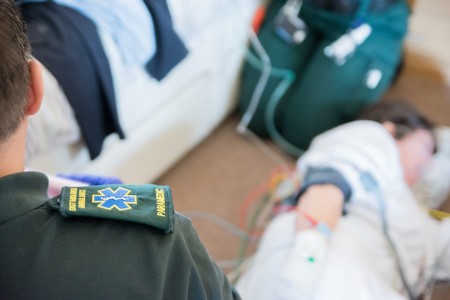 Paramedics respond to critical emergency and urgent situations, delivering high quality and effective pre-hospital clinical care and patient transportation, responding to 999 emergencies, inter-hospital transfers and urgent hospital admissions.
Working in a crew or solo, a paramedic will use advanced driving skills under blue light and normal traffic conditions to respond to and transport emergency and routine patients as required.
In an emergency, you will use high-tech equipment, such as defibrillators (which can restore the heart's rhythm), spinal and traction splints and intravenous drips, as well as administering oxygen and drugs. You will deal with a range of different people and situations, working shifts, in all weathers.
How to become a… Paramedic
In the NHS, recently graduated paramedics are employed as Newly Qualified Paramedics (NQP).
The NQP programme lasts for 24 months after qualifying and during this period additional support, development and supervision is provided by EMAS.
Upon completion of the NQP period, a paramedic will progress to a Band 6 paramedic and will act as a lead clinician whilst supporting other staff (such as students) and directing care.
There are two routes to become a paramedic—in service development from technician or application to an East Midlands university offering a HCPC-approved Paramedic Science programme through UCAS.
The in-service route typically requires individuals to have employment as a Student Technician and Qualified Ambulance Technician before completing further education as a Paramedic Apprentice. This route is often referred to as 'earn while you learn'.
However, aspiring paramedics can apply to undertake a BSc (Hons) in Paramedic Science at a wide range of universities across the UK via UCAS and can apply to EMAS upon graduation from university.
Within the East Midlands region, the following universities currently provide Paramedic Science degrees:
Career and progression opportunities for registered paramedics in EMAS include:
Focused roles within our operational 999 service.
Opportunities within our Clinical Assessment Team (Emergency Operations Centre).
Opportunities within our Hazardous Area Response Team (HART) and operational leadership teams.
Opportunity to develop career as a Specialist or Advanced Paramedic.
A registered paramedic needs:
To be committed to healthcare and enjoy working with people.
To have excellent communication skills and be willing to support and work with
Knowledge in paramedical science and have an understanding of the evidence-based research informing the profession.
To be confident to act as a lead clinician whilst being an effective team member and supporting more junior clinicians.
To meet the standards of proficiency as set by the HCPC.
To pass an occupational health assessment (exposure prone procedures level) and have a satisfactory disclosure barring service (DBS) check.
To have the C1 category on their driving licence.
To pass their emergency driving course which is a nationally awarded qualification recognised by all ambulance services across the UK
Find out more on the HCPC website.
NQP - Band 5 + unsocial shift allowance.
Paramedic - Band 6 + unsocial shift allowance.
37.5 hours per week.