EMAS has been providing a safe and reliable Non-Emergency Patient Transport Service (NEPTS) for patients in Derbyshire since 2016. It has been recently confirmed that the service will be extended till March 2024.
Patients who need medical or clinical support to get to and from their healthcare appointments may book this service after going through the essential eligibility criteria assessment.
We have introduced 54 brand new Peugeot Boxer ambulances to our NEPTS in Derbyshire as part of our on-going commitment to replace older vehicles with more modern ones when required. In 2022, we replaced all our NEPTS cars in Derbyshire with 16 fully electric Kia e-Niro cars; reducing our emissions by 96 tonnes of carbon dioxide equivalent (tCO2e) per year.
This also reinforces our commitment to developing the service to ensure the level of care we provide remains outstanding for the communities we serve. Any upcoming investment in the NEPTS fleet in Derbyshire ensures that EMAS remains fit for the future.
Going forward, EMAS will continue to provide a safe and reliable service to patients, as well as their families, reassuring that they will get to their vital scheduled appointments on time in a safe and dignified way.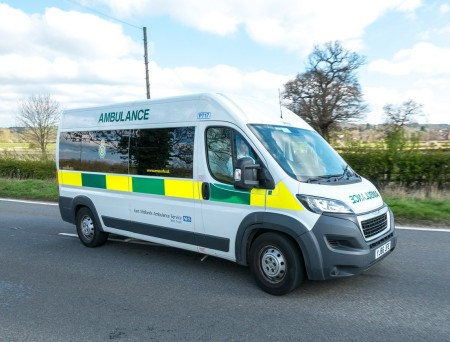 Eligibility
Most people should travel to and from hospital independently by private or public transport, with the help of relatives or friends if necessary. NHS-funded patient transportation is reserved for when it is considered essential to ensuring an individual's safety, safe mobilisation, condition management or recovery.
Only patients who meet one of the below reasons for an appointment will be considered for eligibility for NEPTS:
The patient has been referred by a doctor, dentist or ophthalmic practitioner for non-primary care NHS-funded healthcare services – that is, diagnostics or treatment.
The patient is being discharged from NHS-funded treatment.
The patient is likely to qualify for non-emergency patient transport if they meet one or more of the following criteria:
They have a medical need for transport, typically because they may require oxygen and are unable to self-administer this during transit, need specialised equipment during the journey, need to be closely monitored during the journey, or need to be transferred to another hospital.
They have a cognitive or sensory impairment requiring the oversight of a member of specialist or non-specialist patient transport staff or a suitably trained driver.
They have a significant mobility need that means they are unable to make their own way with relatives/friends and/or escorts/carers whether by private transport (including a specially adapted vehicle if appropriate for the journey), public transport or a taxi.
They are travelling to or returning from in-centre haemodialysis, in which case specialist transport, non-specialist transport or upfront/reimbursement costs for private travel will be made available.
A safeguarding concern has been raised by any relevant professional involved in a patient's life, in relation to the patient travelling independently.
They have wider mobility or medical needs that have resulted in treatment or discharge being missed or severely delayed.
Understand the full detail of the NEPTS eligibility criteria.
If you are not eligible for NHS funded transport, you may qualify for help with travel costs under the healthcare travel cost scheme (HTCS).
You might also be interested in…