Date published:
15 November 2023
Last year, the EMAS LGBT+ Network signed up to the Derbyshire LGBT+ charity's Rainbow Accreditation Scheme and on Friday 10 November 2023, the Network was awarded the accreditation due to its ongoing commitment alongside the wider organisation to becoming fully LGBT+ affirmative.
This has been achieved since the rejuvenation of the LGBT+ Network in February 2022 and delivered via a committed manifesto, which has included a visible presence by EMAS at local pride events, with records of outreach and engagement with the local communities we serve; the implementation of rainbow laces and lanyards all year round and not just in the month of June; use of inclusive language, especially when talking about marginalised groups; supporting staff who come out at work, who transition, or who explore their gender identity; and taking a firm stand on our position when it comes to LGBT+ rights and support.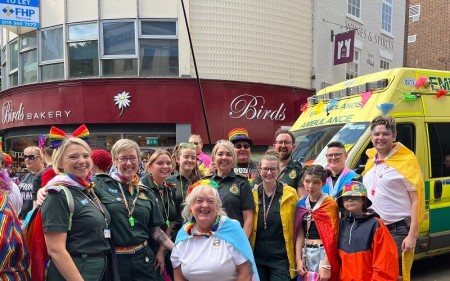 The Rainbow Accreditation scheme encourages staff at all levels of an organisation to consider how inclusive they are. It brings together all the positive work being done already and encourages colleagues to think about what more they need to do for LGBT+ staff, service users and visitors.
Committing to this scheme also enables organisations to network and partner up with others across the county (and beyond) who are providing a similar service; eg hospices, organisations working with people fleeing domestic abuse, local authorities, police, counsellors, schools and colleges.
In order to gain the accreditation, the network gathered lots of evidence to meet a number of different standards as outlined by the Derbyshire LGBT+ charity. These are:
Welcoming – announcing our commitment to becoming more LGBT+ friendly and inclusive, from the moment anyone has an experience of our organisation.

Consulting – with patients, potential service-users and members of our local communities, which is vital to our growth and development.

Collecting – All stakeholders need to feel fully confident in our handling of personal data, and that all information will be treated with respect and stored appropriately.

Analysing – in any work involving LGBT+ communities, it is important to understand that LGBT+ communities comprise myriad sub-groups each with their own specific needs.

Embedding – staff should understand how we have reached the place we are now; how laws have changed from punitive to accepting; and how, generally, social attitudes have changed towards LGBT+ communities.

Delivering – training opportunities which include the full spectrum of LGBT+ identities.
John Yates-Harold, Project Officer, and accreditor for the Derbyshire LGBT+ charity, spent the day reviewing the evidence, in addition to hearing from a variety of different colleagues about their personal experiences, and how they contribute to LGBT+ inclusion at EMAS. All testimonies were taken into consideration when John made their final decision on whether to grant the network with the accreditation.
John even had the opportunity to visit our Emergency Operations Centre at Horizon Place to speak to colleagues there, while also getting to listen to a 999 call and seeing how resources get dispatched to calls.
Speaking of their experience of their day with us, John said:
"It was a really busy day and I met lots of different, wonderful people as part of the assessment process. Everyone was warm and friendly and totally committed to providing the best quality service and to improving the lives of LGBT+ people whether as staff, colleagues or patients.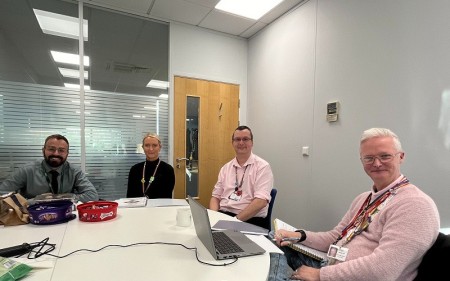 "The golden thread throughout all my conversations with everyone I spoke to during the assessment day was their passion and commitment to providing the best quality service for all patients. Everyone had a deep understanding of the needs of LGBT+ patients and a real commitment to working with professionalism, integrity, pride and mutual respect.
"I just want to say a massive thank you to them and to everyone I met for making the assessment day such a joy from start to finish. You really made my job so much easier, and it was a real pleasure to spend the day with you.
"I'm proud to have EMAS on board as the first of the larger organisations assessed and accredited under our Rainbow Partnership Accreditation Scheme."
Caroline Mason, Clinical Education Development Specialist and Chair of the EMAS LGBT+ Network said: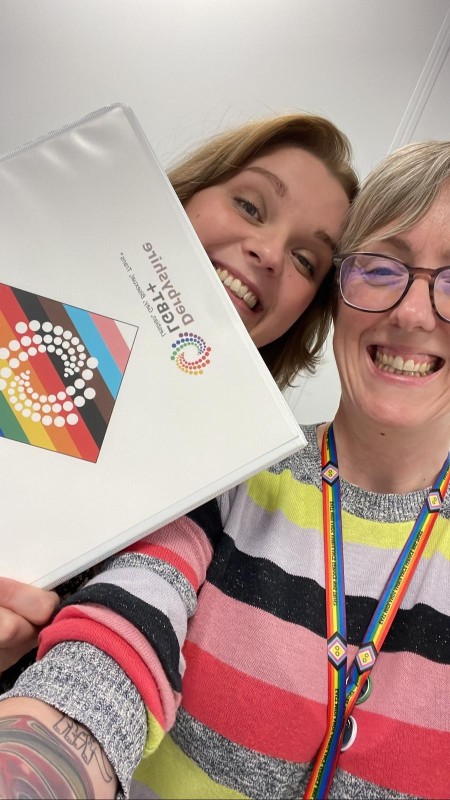 "I am so incredibly proud that we have received this accreditation as the LGBT+ Network have worked incredibly hard to promote inclusive practice within EMAS, not only for staff, students and volunteers but also for service users.
"To be recognised as LGBT+ inclusive at EMAS is reflective of the work that we have undertaken and are promoting.
"If we can continue to support open discussions in a safe environment to allow people to explore their differences and to realise the strength diversity brings to a community, this also allows our colleagues to bring their whole self to work, which not only benefits the individual but our organisation as well.
"We (the Committee) are passionate about creating an inclusive workplace and, with the support of senior management, we are actively working towards this, and I would like to thank every single person that has worked on this project and supported the Network. I cannot put into words how much this means.
"However, we appreciate there is still development and learning required to truly become an inclusive workplace. This is why we will continue to listen to our members and work alongside the BME, Disability and Carers', and Women's Networks, recognising the importance of intersectionality.
"By working together, from grassroots level all the way up to the Chief Executive, we can achieve more. With effective communication and by truly listening to each other, we really can make a difference."