Date published:
13 March 2017
Without patient transport, cancer-survivor Donna Hopkinson would be unable to get to her hospital appointments which prevent her life from becoming unbearable.
Donna, 37, from Loscoe near Heanor was diagnosed with myeloid leukaemia in 2013 and underwent a stem cell transplant.
Unfortunately, the donor was not a complete match and so she now suffers with Graft Versus Host Disease where the donated cells attack her body cells – leaving her with severely peeling skin across her whole body.
To combat the disease, she has to have her blood cleaned by a dialysis machine and additional treatments three times a week and it is a volunteer who drives her there.
She said: "Patient transport is a life-saving service for me, and the volunteers are amazing.
"Without help getting to my appointments my life would be hell. My skin would be unbearable and I would never go out.
"Often I feel so unwell after dialysis that getting three buses home would be too much and as my immune system is so weak, being around the general public leaves me open to infections which could make me really ill.
"I think more people should volunteer for the patient transport service because you don't know how much you are helping someone who is going through a tough time."
Today, Donna is one of the patients on the list of collections for our lovely volunteer driver Paul Gandy.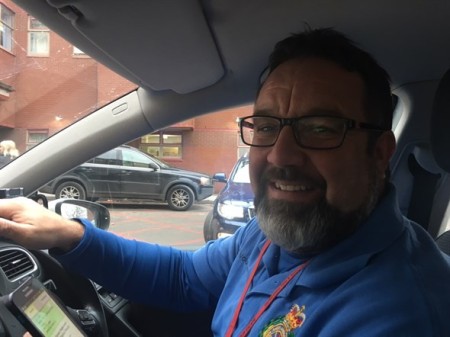 Paul, 50, from Chaddeston, is a retired firefighter who now drives for Patient Transport Services (PTS) two-and-a-half days a week.
The volunteer drivers transport patients to a wide range of hospital appointments including mental health support, day care centres for dementia, physiotherapy, kidney dialysis, chemotherapy and radiotherapy.
He said: "The volunteer drivers are vital because we support PTS and can be a friend to people in our community.
"A lot of patients apologise for talking so much on the journeys, but for many of them I am the only person they will see all week. It gives you a great feeling to know you are helping out and making such a difference."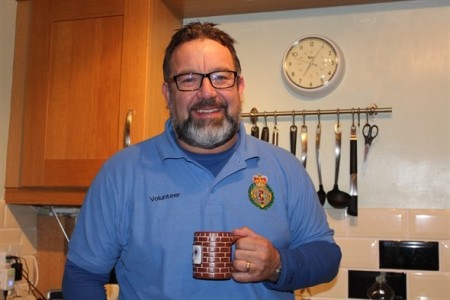 Paul's day
7am: It's still dark as Paul dons his EMAS volunteer T-shirt, has one last gulp of his coffee, finishes his peanut butter on toast and heads out the front door.
7.30am: Our first pick up is Mr Kang from Mickleover who is going to a very early physiotherapy appointment after having a knee replacement. Being a Rams fan (and a season ticket holder since the age of five), a dog-lover and owner of two West Highland Terriers, and with 33 years in Derbyshire Fire and Rescue Service, Paul finds that he never runs out of things to talk about with his patients. The two men bond over the Rams' latest match in the car on the way to the London Road Community Hospital.
8.10am: Mr Kang heads into his physiotherapy appointment and we set off to Alvaston to collect our next patient who is going to Sheffield Royal Hallam Hospital for a minor operation on her heart. When volunteers sign up to the VCS, they decide how far they are willing to travel when transporting patients, so Paul agreed to travel within a one-hour radius of Derby which includes Sheffield.
Paul became a VCS driver a year ago while he was still a firefighter, but was only able to volunteer one day a week.
He said: "One of my football friends worked for the PTS and told me about it. I'm a people person and I like to have a chat and help people out. I wanted to do something worthwhile where I am making a difference to people in the community.
8.24am: Tracey Croft, 32, walks with Paul to the car, and he holds the door open as she climbs in. Tracey admits she is nervous about the appointment in Sheffield but Paul quickly reassures her and puts her at ease by talking about her dogs.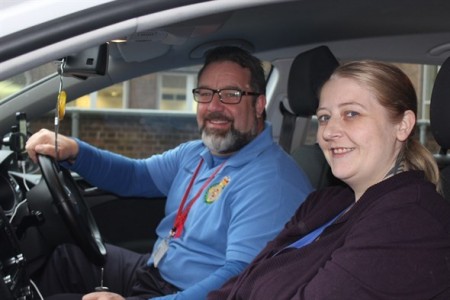 10am: Paul walks Tracey to the right ward and makes sure she is checked in before wishing her luck and heading back to his car.
11.20am: Our next patient is Nicola Roberts from Ripley, who is going to the Pain Clinic at Royal Derby Hospital.
Ms Roberts has used PTS for 10 years to get to and from her hospital appointments for her multiple sclerosis.
She said: "I don't drive, I am in too much pain to get a bus and taxis are so expensive. The transport means a lot to me as without it I wouldn't be able to afford to get to hospital."
12.10pm: We arrive at Royal Derby Hospital and Paul quickly goes into reception to get a wheelchair for Ms Roberts. As soon as we have dropped her off at the pain clinic, we return to reception to collect Gillian Newbury, a 65-year-old retired estate agent who has been for an appointment at the hospital.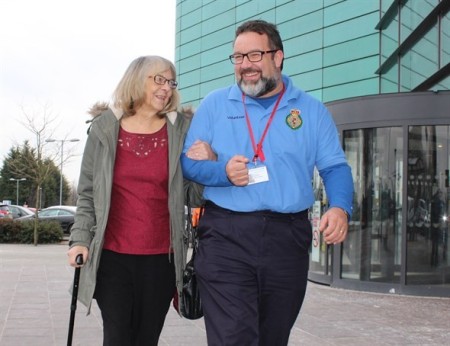 As Mrs Newbury is walking with a stick, Paul chivalrously offers her his arm to steady her on the short walk to the car.
12.15pm: We also pick up an elderly gentleman from the community hospital in Derby, and carry on our journey to drop Mrs Newbury to her home in Wirksworth.
1.30pm: The elderly gentleman is returned to his home in Crich, and we head back to Alfreton to collect a woman who is going for a renal appointment.
2.25pm: Once the renal patient is safely delivered to her appointment at Nottingham City Hospital, Paul drives to Queen's Medical Centre to pick up Donna from haematology who has been in for dialysis.
3.38pm: Finally we collect one last patient who has had an endoscopy, we take Donna to her home in Loscoe, and the last patient to his house in Ashbourne.
4.15pm: Paul heads home for another cup of coffee, to put his feet up and to reflect on the difference he has made to the lives of people across Derbyshire in just one day.
He said: "It's a great way to utilise your spare time, and you are being a friend to people in your community as well. I would urge anyone to sign up and have a go."
Volunteers receive full training, uniform and equipment, mileage for using their own car and can work the hours that suit them.
Could you be a volunteer in your community? For more information please call: 0300 300 34 34 or email pts.vcs@emas.nhs.uk
What's in Paul's glovebox?
Torch for the winter mornings when it is still dark
Skin softener wipes, anti-bacterial wipes and hand sanitizer (EMAS issued)
Mapbook for use if there are any discrepancies with Google Maps (EMAS issued)
Sick bags
Volunteers are also issued with an EMAS volunteers t-shirt and raincoat, and a bag to keep their equipment in.