Date published:
29 September 2023
From working alongside and supporting a variety of different people, to assisting with jobs big and small – delivering a drain cover to a station, advising on the best way to tackle a leaking oil tank, all the way through to responding to cardiac arrest as the lead clinician on scene – we spent the day with Duty Commander for Lincolnshire, Andy 'Paf' Pafomow to find out how his role makes a difference to both our colleagues and the residents of Lincolnshire.
Paf starts his day by pulling into Boston Ambulance Station on a very sunny summer's morning. After enjoying his first cuppa of the day and receiving a handover from the night-shift Duty Commander, Paf is ready for the action of the day ahead.
Before working for the ambulance service, Paf worked for the British Red Cross. The 60-year-old Duty Commander, who is from Boston, feels that his previous work was a natural step towards a career at EMAS.
He said: "During my time with the British Red Cross I knew several people at Boston Ambulance Station.
"They were very supportive of the work we did, seeing first-hand our full range of skills and capabilities at the scene of incidents when we would be working alongside them.
"At one particular incident I attended, someone who I consider to be a legendary paramedic from Boston at the time said I should apply for a job with the ambulance service."
This is exactly what Paf went on to do. He joined what was then referred to as Lincolnshire Ambulance Service in February 2000 and has never looked back.
Paf has held many roles throughout his time at EMAS, starting off in Non-Emergency Patient Transport Services for a few months before he successfully applied to become an ambulance technician. He then progressed to the role of a paramedic before being in his current role today.
Despite his clear dedication, providing care to hundreds of patients throughout his career, in addition to his wealth of knowledge and experience of how the ambulance service operates, he never considered that he would one day end up in a leadership role.
Paf added: "My step into leadership developed very organically over the years. When I started, there was no specific title for the role that I now do, but my responsibilities began to resemble that of a leader and so my journey to where I am now naturally progressed over the years.
"As Lincolnshire Ambulance Service became East Midlands Ambulance Service, there were various configurations on the definition of my role, which is now called Duty Commander.
"I'd highly recommend the role to anyone who would like the opportunity to work with lots of different people on a daily basis and is driven to help and look after people by utilising problem-solving skills."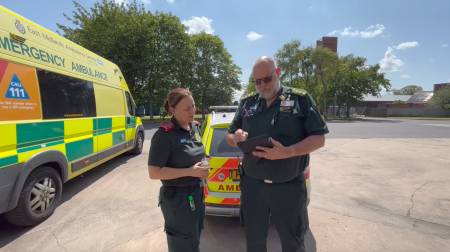 From the get-go, it's clear that Paf possesses these qualities, as on the top of his agenda for the day is to check in on staff at Boston station to make sure they are doing ok. He is naturally curious about how their mornings have been so far and how life is treating them both inside and outside of work. During these discussions, he takes the opportunity to check they are all clear on how the day is expected to go from on operational point of view.
Paf explains: "My role is a support role which allows colleagues to be able to do their job effectively and without prejudice or interference.
"I hope that everybody knows that if they do have any challenges or face any barriers while ultimately trying to deliver the best care they can for their patients, that they can come to me and they will be listened to sympathetically, helped, and where necessary signposted to other support services."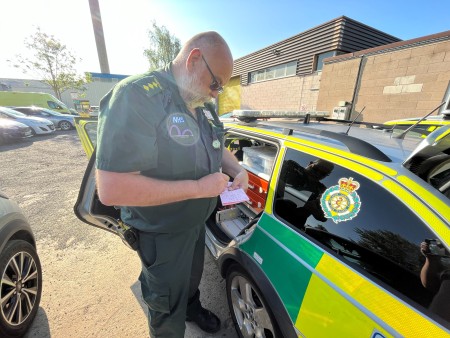 Having checked his fast response car to make sure he has all the equipment he will need for his 12-hour shift, should he be needed to support the response to a medical emergency as the lead clinician, Paf dials into two operational meetings back-to-back. This allows Paf to determine where our resources are best placed throughout the day to ensure optimum support to staff on duty, as well as maintaining service delivery to patients who will need us throughout the day.
It's not long until Paf is required away from his desk – a crew member starting their shift is required up at Skegness, where they will be paired with a colleague so the coastal town has another double-crewed ambulance available to respond to patients both there and in the surrounding areas.
Paf returns back to his desk and begins catching up on the emails which have come his way while he's been out of the office. This task is short lived, as 11 minutes later Paf responds to an open-mic request for a Duty Commander to support an ambulance crew along the East Coast as a Cardiac Arrest Lead. They are treating a patient in cardiac arrest.
Upon arrival at the scene, everyone is doing everything possible to give the patient the best chance of survival. Unfortunately, despite the best efforts of the crews, there is nothing further anyone can do, other than to make the scene safe and comfortable so their loved ones can come to say their goodbyes.
Equipment packed up and back to the solo response car, Paf takes the opportunity to visit Skegness Ambulance Station to do some staff welfare checks following that incident.
Reflecting afterwards, Paf said:
"When we arrived, it was clear there was very organised coordination between the team. There was already a LUCAS device in place, which is an automatic machine which performs chest compressions, allowing the crew to focus on other clinical interventions.
"My role at the scene was to help take some of the pressures off the crews on scene by leading on some of the more higher-level decision making. This includes making sure that the scene is safe and hidden from public view to maintain the dignity of the patient at all times, so the team could continue to play their vital role in delivering continued and uninterrupted care to the patient.
"We conducted a welfare check on the crews immediately at the scene and this will be followed up again by their station managers a few days later.
"It's important that once we've thought about the welfare of our patient and their family, we need to take care of ourselves too – it's definitely a two-way process."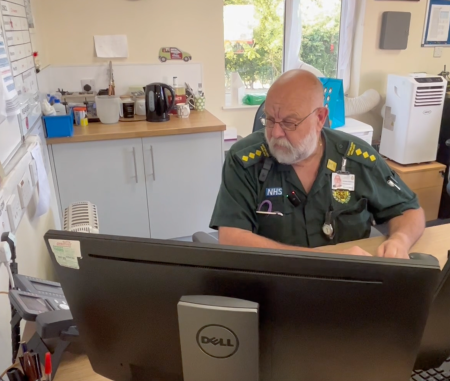 Vehicle refuelled, it's back to the office for Paf's next task of the day. He is proactively checking in on staff who are showing as being on scene with their patients for longer than what may normally be expected. This is to make sure that they and their patients are safe and ok, or whether additional support may be needed.
One crew has been on scene with their patient for nearly four hours. Paf is concerned as previous history of this patient shows that they can become agitated and aggressive with crews. However, upon contact with a member of staff on scene, the patient is calm and has been fed, with the crew waiting for a call back from another healthcare provider that is best matched to meet the needs of their patient's condition.
15 minutes to go before the end of his shift, a night crew pops in to say hello. Paf takes the opportunity to ask how they are doing and if they are ready for the shift ahead, in addition to providing them with an update of how the day has gone. This gives them a sense of how they may expect the night shift to play out.
Paf's final job of the day is to pass on the baton to the next Duty Commander covering the night shift, before heading off home to his wife.
Are you inspired by a career at EMAS? We're on the lookout for people who want to make a difference daily to our patients and colleagues. In return, you will get to work in some excellent and varied locations that the East Midlands has to offer. Visit our website to find out more and apply today: Join Team EMAS :: East Midlands Ambulance Service