Date published:
20 July 2023
Academics, firefighters, paramedics and a doctor from around the East Midlands recently came together for a road traffic collision (RTC) exercise to help health science students from the University of Nottingham to better understand a patient's journey, from the road to hospital.
The exercise was the first of its kind in a collaboration between East Midlands Ambulance Service, Lincolnshire and Nottinghamshire Air Ambulance, Nottinghamshire Fire and Rescue Service and the University of Nottingham. Students studying nursing, adult, child and mental health fields, and physiotherapists all took part in the simulation to gain real-world learning experience.
The exercise, held at Highfields Fire Station, simulated two cars that had collided in a head-on collision, with five people trapped in the vehicles. Four live casualties were used and a realistic training dummy to simulate injured people who needed to be rescued.
A few days after the exercise at Highfields, students, had a further simulation of the events at Queen's Medical Centre, held in their immersion suite, simulating the ambulance journey, management in A&E and then discharge planning on the ward, so they were able to track a whole patient journey and what happens to people with serious injuries from RTCs.
Greg Cox, Divisional Director for Nottinghamshire at EMAS said: "We frequently work together with other blue-light services and our air ambulance colleagues at the scenes of road traffic collisions, so this was a great opportunity to test and enhance our response to these types of incidents.
"I would like to thank those in attendance who represented EMAS and to our colleagues at Nottinghamshire Fire and Rescue Service for hosting us at their station. This detailed portrayal of that inter-agency working in action would have no doubt been very insightful for the students in attendance."
Clinical Fellow Dr Matt Thacker from Lincs and Notts Air Ambulance said: "This was a fantastic opportunity for all teams to help educate future healthcare practitioners in areas that may not get exposure to. Putting our interoperability training into practice in a simulated environment was also a huge benefit to ourselves."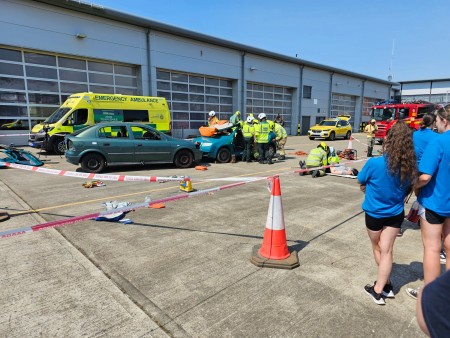 Station Manager Jonathan Wilson of Nottinghamshire Fire and Rescue Service said: "We were delighted to have students from the University of Nottingham's School of Health Sciences join us, along with our blue light partners. Not only does this exercise help students to understand more about the medical journey of a patient who has been in a traffic collision but it is helpful for us to continually train and improve our skills so we can be the best when we have to put it into practice for real."
Carli Whittaker, Director of Clinical Skills at the University of Nottingham, added: "This has been a great opportunity for the School of Health Sciences students to participate in the patient journey from incident to rehabilitation. It demonstrates the true interdisciplinary approach to healthcare, emphasising collaboration and partnerships being embedded from undergraduate education. It is an excellent example of shared knowledge between professions and one that will continue to be developed."