Our Ambulance Support Crew (ASC) is an operational ambulance role that responds to patients accessing EMAS with emergency and urgent care needs.
As an ASC you will work with other support staff and clinicians to respond to patients and deliver/support care and/or transportation to other services.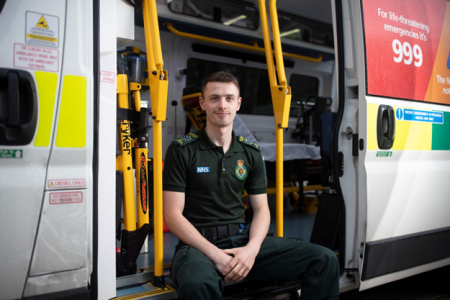 Some calls will be emergencies and you will be developed to respond to patients under emergency driving conditions.
ASCs are required to work across a range of shifts including days, nights, weekends and public holidays.
How to become a… Ambulance Support Crew
English (GCSE Grade 3/4 or C/D or above) Functional Skills Numeracy Min. Level 1 or above
Maths/Numeracy (GCSE Grade 3/4 or C/D or above) Functional Skills Numeracy Min. Level 1 or above
Science (GCSE Grade 3/4 or C/D or above) or accepted equivalents
C1 category (provisional accepted at point of application)
Full UK Manual Driving Licence (with no more than three points)