East Midlands Ambulance Service is a forces-friendly employer and we have been accredited with the Ministry of Defence Employer Recognition Scheme (ERS) Silver Award Defence Employer Recognition Scheme. The award recognises employers who pledge, demonstrate or advocate support to defence and the armed forces community and align their values with the Armed Forces Covenant.
We are also accredited as Veteran Aware through the Veterans Covenant Healthcare Alliance (VCHA) having met the standards required to support ex-forces personnel employed within EMAS and the wider community.
We engage with organisations and military units across our region to support the Armed Forces community, including both our substantive employees, bank staff, and volunteers.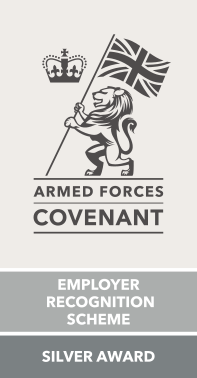 Our Armed Forces programme continues to develop. Our current projects include:
Expanding our Armed Forces Network through our network platform and committee.
Recruitment days – attending military-sponsored events and recruitment fairs to raise awareness of roles EMAS has to offer and recruitment support.
Providing focussed support to Armed Forces leavers and those who have served throughout our recruitment process, including a guaranteed interview scheme for Veterans and serving Reservist and Cadet Forces Adult Volunteers, as long as the candidates meet the minimum essential criteria.
Supporting Armed Forces Day and Remembrance events.
Providing opportunities for registered paramedics to work alongside EMAS colleagues and provide supportive training and mentoring to Newly Qualifies Paramedics from the Armed Forces through honorary contracts.
Exploring work experience opportunities for service leavers and ex-service personnel
Signing up to the Career Transition Partnership and attending their annual careers fair.
EMAS has also pledged into the Step into Health Scheme.
Partnership working has been developed with both the military and key organisations across the East Midlands that support the armed forces community including:
For more information please contact the EMAS Armed Forces network lead Kevin Thorne via email at Kevin.Thorne@emas.nhs.uk.